Your dress impresses before you do. So, knowing what to wear on a bowling date is important to make a good first impression. It doesn't matter if it is your first date or if you know each other for years. You have to get the right outfit for your date to be confident in your style.
Keep things smart but casual. Wear comfortable jeans or khakis with a nice collared shirt or polo shirt along with athletic-style bowling shoes. If you're renting shoes from the bowling alley, bringing comfortable socks is a smart move. With this ensemble, you're all set to strike the perfect balance between style and comfort.
Looking to bowl her over on your next date? Choosing the right outfit is key, and we've got the perfect guide to help you strike the right balance between style and comfort. Keep reading to find out how to dress to impress on the lanes!
What To Wear on a Bowling Date Guys?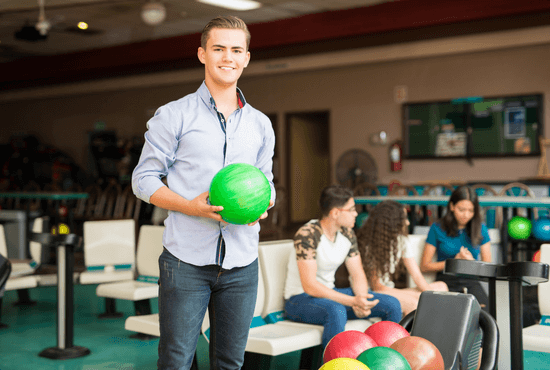 1.The Golden Rules of Bowling Outfit For Guys
Look Like Yourself: Don't try to be someone you're not. Your date wants to see the real you, so wear something that reflects your personality.
Be Comfortable: Bowling is a fun and active game, so you'll want to wear something that lets you move freely. Comfort is key!
With these simple rules in mind, picking the perfect outfit for your bowling date becomes a breeze.
2. Dress for comfort
Again, minimalism is the key here. Pick out a cute yet comfortable pair of jeans with a polo shirt. You can also wear a nice collared shirt.
3. Wear the right shoes
Considering your whole outfit for a bowling date and to keep things simple, I would recommend a nice and clean pair of sneakers to wear. They are comfortable and look great with a casual outfit.
Remember: Many bowling alleys don't allow you to wear regular shoes on the tracks. They have special bowling shoes to wear on tracks to keep them clean and non-marking.
But, if you don't have your own bowling shoes to bring with you, you can also rent them from the bowling alley for a few bucks.
4. Bring a pair of socks
Bring an extra pair of socks with you if you are going to bowl with rental shoes. Many other bowlers wear rental shoes, and you don't want to wear them sockless. That's unhygienic and could be a host to many bacteria and fungi that can cause warts and athletes' feet.
5. Wear a jacket
Depending on the weather, a sports jacket is always a flattering option. It is something you can easily take off once you are inside and playing your game, and it also helps a man look more masculine and authoritative.
6. Be original
Some people are so nervous about the impression they are making on each other that they forget to have fun. It's totally normal but not the ideal way to spend your evening with your special one. Let yourself go and enjoy, and you will feel like you really represented your truest self.
What Not to Wear on a Bowling Date?
You never know how a recently purchased and not yet tested item will behave on your special day. Don't wear the clothes on the bowling day you just bought unless you are 100% sure about them.
The new suit may not fit your figure. A new shirt may come with a label that will chafe your neck or body. Test them by wearing them for some time, and if you are not comfortable and do not fit your size, don't wear them on your bowling date.
Make sure your clothes are not too tight as there is a lot of bending and movement. Remember, the right fit is more important for a bowling date than fancy clothes.
Is Bowling a Good First Date? Hell Yeah! Here's Why
The stress of first dates makes bowling a great first date because it's affordable, provides an escape from awkward silences, and lets you learn something about your date before the second date.
Reasons Bowling Makes the Best First Date:
What do I like the most about going on a bowling date? You get everything under one roof to spend quality time with your special one as you don't have to book a separate place for dinner or drinks, as bowling alleys serve both.
You prove yourself a gentleman right away by offering help to her choosing a bowling ball and some tips for gripping and throwing the ball.
It's so important to understand and recognize that all people need recognition and acknowledgment. Appreciate her genuinely what you liked about her during the game, and you get into her emotional state.
Bowling date helps to get the first touch barrier out of the way easily. What about giving a high five on throwing an awesome strike?
There is no awkward silence if you have prepared yourself for the day. You can study the history of bowling, bowling rules, bowling terms, and interesting facts, and even don't hesitate to know some bowling pick-up lines. Any girl will appreciate your erudition.
How to Stop Your First Bowling Date From Being a Disaster?
Bowling is a great first-date experience for many people. But it can be a disaster if you have never been to a bowling alley. Make sure you have booked the lane, and no league or tournament is going around.
It is true bowling is a casual and fun game, but it isn't very easy at the same. You should have some basic knowledge of the game to give yourself a lead role in front of your special one.
Moreover, visit the bowling alley at least once before you date, so you know their food preferences and hygiene, mood, music, and customer service.
How to Act on a Bowling Date?
I know this can be super nerve-wracking, so we have some tips on how to act on a bowling date and win her affection.
Act calm and relaxed, and she will be relieved and impressed.
To avoid awkward silences, you can prepare a series of neutral questions that will lead to pleasant conversations.
Pleasant conversations are the basis for communicating with girls. Women are very emotional creatures, and your task is to create the maximum variety of positive emotions.
Take the initiative by taking decisions with her suggestions in the bowling alley because women prefer men who can be relied on, that is, leaders of the pack who know how to make decisions clearly and without delay.
Act like you actually care about her and listen to her with good eye contact. If you are not looking at the other person or seeing your phone, again and again, it can give a feeling of absence.
Last but not least, don't be cheap and show her the kind of respect you'd hope would be shown to your little sister on a date.
How Many Games of Bowling on a Date?
It entirely depends on you, but two games of bowling on a date is a good choice. You can also give yourself a break if you want more than two games. But make sure you both are comfortable in continuing the fun.
How to Kiss on a Bowling Date?
Girls do not like to kiss in public places like bowling alleys, so they will probably look for a secluded place. Therefore, you should make sure that you are in a place where the light is dim, you sit next to it, and there are not many extra eyes around.
You can also kiss her while saying goodbye to her. There is no need to rush into a kiss, especially if the girl is not ready for it; you might find yourself in a stupid situation.
How to Know That She is Waiting For the Kiss?
This is quite easily visible in her behavior. This happens unconsciously, and you need to be able to notice it. This can manifest itself in different ways, but there are also common signs typical for most girls.
She often leans towards a man, seeking to get closer.
She looks in the eyes and pauses in conversation so that he guesses about her desire.
The girl's gaze is directed to the lips of a man, or she puts her head on your shoulder or chest.
If you get these signs, she is waiting for the kiss. Good luck to you!
Note: This article is mainly for guys wondering what to wear on a bowling date. For girls, we have another detailed guide on bowling attire for ladies. You can check that to know about some really cute outfits for ladies to wear on a bowling date.