If you want to go bowling with your coworkers, it's important to know what you should wear. Dressing too fancy might make you look out of place, but the last thing you want is to look unprofessional. It's essential to find a balance between casual, respectful, and ready to have fun at the bowling alley.
When you're bowling with coworkers, you should wear leather shoes with rubber soles for grip, jeans or khakis, and a casual shirt. For example, you could wear a button-up shirt with khakis for comfort and style. Make sure your clothes don't have wrinkles, stains, or tears that might look tacky.
Throughout this article, we'll explain how you should dress for bowling with your coworkers, what shoes are the best, and what you need to remember before and after heading to the bowling alley.
How to Dress for Bowling With Coworkers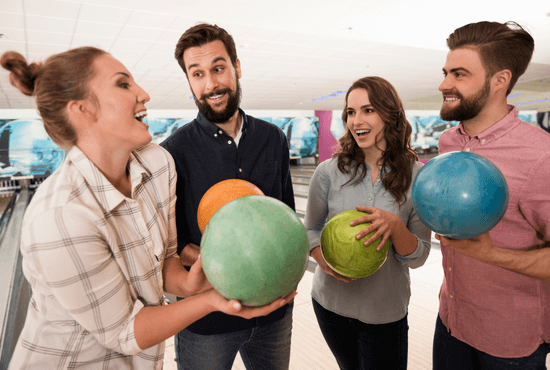 To dress for bowling with coworkers, follow these suggestions:
1. Try a button-up shirt or a T-shirt with removable layers. Button-up shirts can be casual or classy. Where something breathable, especially if you want to wear an undershirt. Bringing removable layers is an excellent idea since you might end up going out for drinks or food after bowling.
2. Wear jeans or khaki pants (pants are much better than shorts for bowling since they offer excellent flexibility. Pants are much more appropriate for bowling with coworkers since they're professional and keep your legs protected.
3. Make sure you have clean ankle-height socks. Your feet might get a bit too sweaty if you don't have high-quality socks. Bowling can be quite warm, especially if you have leather shoes (we'll discuss the proper type of bowling shoes later in the post). Your socks should go just above the shoes to keep the sweat out of the insoles.
4. Style your hair and leave your hats at home. Hats aren't the best for bowling with your coworkers because they could fly off of your head every time you roll the bowling ball. Having styled hair also looks much more professional than a baseball cap. Beanies are acceptable during the winter since they won't come off, though.
5. Consider what you'll be doing after you go bowling with your coworkers. If you think you'll go home right after bowling, you might not have to worry about this step. However, those who might go to a bar, restaurant, or outdoor event after the bowling alley should bring layers of clothes.
Wearing the right outfit can make your bowling experience much more enjoyable. While it's important to let your coworkers know that you respect their time, it's also essential to feel relaxed and comfortable in your clothes. Bowling is a light form of exercise, which means you might break a sweat if you're too layered.
What Shoes Can You Wear Bowling With Coworkers?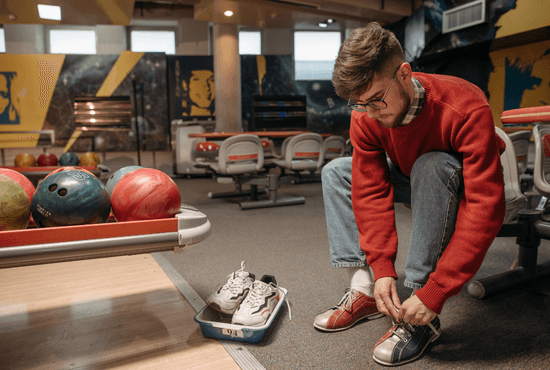 You should wear leather shoes with rubber soles when you're bowling with coworkers. However, if you don't have leather shoes, make sure your shoes have textured gripping patterns. These patterns prevent your feet from slipping in the bowling alley. Most bowling alleys offer rental shoes if you don't have a pair.
You should do your best to find shoes with rubber outsoles. The insoles shoes should be cushioned and comfortable since you'll be on your feet for most of the bowling session. Uncomfortable shoes can ruin the whole experience, making you less likely to enjoy your time with your coworkers.
Try the KR Strikeforce Bowling Shoes. These shoes come with flexible soles that let you move around without feeling constricted. They come in multiple colors and sizes, all of which weigh significantly less than most standard bowling shoes. Each pair includes built-in sliding pads for quick bowling movements.
Whether you get shoes made for bowling or prefer your current pair, it's important to be comfortable on your feet. Once you have the right shoes, read on to learn what you shouldn't wear when bowling with your coworkers.
Things to Keep in Mind While Picking Your Clothes (What Not to Wear)
If you're going bowling with coworkers and you want to know more about what to wear, you're in the right place. It's crucial that you keep in mind what you might be doing before, during, and after you go bowling. Some people enjoy drinking and eating between bowling sessions, so that could affect your style choices.
Keep these suggestions in mind:
Always choose breathable clothes. Bowling expends a lot of energy. It's best to wear something that breathes, such as cotton, or shirts with buttons. The slots between the buttons let air through the clothes, providing ventilation while you bowl. You could also wear an athletic undershirt and socks.
Steer clear of graphic T-shirts or political statements. Graphic T's aren't very professional, nor do they look classy. Political statements can cause unwanted discussions with other people, even if your coworkers are okay with them. It's not worth potential arguments and unwanted conflict.
Don't wear clothes with rips, holes, or stains. Some modern clothes come with rips to look fashionable. However, these clothing modifications are far from professional. We recommend wearing clean, form-fitting clothes. Baggy clothing looks unprofessional, whereas tight clothing might give off the wrong impression.
Try not to wear too much loose jewelry. Loose accessories make it hard to go bowling without getting tangled or falling off. Furthermore, it can be noisy or distracting. Instead, wear smaller jewelry or leave them at home. You could also pack the jewelry in a bag if you intend to wear them after bowling.
Make sure you cover potentially offensive tattoos. Political, anti-religious, curse words, and other tattoos could cause the same problems as the aforementioned clothing issues. You could wear long sleeves or accessories that cover the tattoos when you're out with your coworkers.
Picking the right clothes while bowling with coworkers makes all the difference. You shouldn't have to worry about getting too hot, feeling bound by tight clothes, or wearing too much jewelry. Try to find a balance between comfort, style, and respectable professionalism in your outfit.